Centrifugal Separator
Automatic Models
Product features
Operation to the removal of the sludge is an automatic process. Manual operation is not required.
Extra management is not required, so it is really easy to use.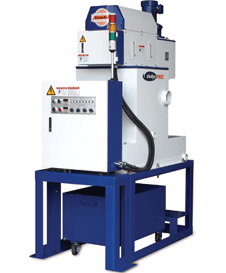 SF-50A
Structure
Processing cycle
Process Liquid continiously flows up through the Feed Tube.
The Impeller accelerated and distributes the Liquid into the Spinning Bowl.
Liquid flows up The Pool Surface of the Bowl as the solids separate and compact at the Perimeter of the Bowl.
The clarified Liquid passes around the Efficiency Ring and discharges through the Bowl Hub discharge ports and into the Frame Collection Chamber.
The clarified liquid flows down the Drain Tubes and into the lower frame drain pan where it exists discharge fitting at the rear of the Centrifugal Separator.
Automatic cleaning cycle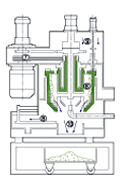 Once the bowl fills capacity with waste solids,The Automatic cleaning Cycle is activated to remove the Solids. This Cycle is controlled by an adjustable Process Timer.
When the cleaning cycle is activated, The Separator shuts off The Feed and brakes to a complete Stop.
After the Free Liquid drains, The Sludge chute cover is pneumatically opened.
A second Pneumatic Cylinder engages the plow mechanism's clutch socket into the plow shaft. The sprocket then turns, counter rotating plow blades altermately, clockwise and counter clockwise.
The Plowing Action discharges the compacted solids from the tapered Section of the Separator Bowl. The sludge drops through a chute into a waste receptacle below The Machine.
Upon completion of the cleaning cycle, the sludge chute cover closes,the pneumatic cylinder retracts,The Process Timer resets,and the machine resumes its process cycle. A normal cleaning cycle takes less than 5 minutes.
Specifications
Model\Spec.
Process
capacity
(ℓ/min)
Sludge
volumn
(ℓ)
RPM
of bowl(rpm)
Motor
(Kw)
Required
space
(mm)
Inlet
height
(mm)
Outlet
height
(mm)
Weight
(Kgf)
Download
50Hz
60Hz
SF-50A
50
7
1900
2300
1.5
1280×680
906
1118
400
SF-100A
100
15
1800
2200
3.7
1350×780
985
1244
600
SF-200A
200
25
1860
2200
5.5
1500×890
1004
1324
800