Centrifugal Separator
Semi-Automatic
Product features
Sludge is remove by using T-shape spanner, so it would have no harmful effect of the person removing the sludge.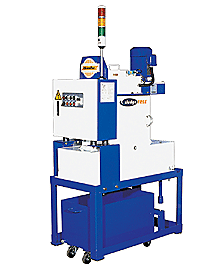 SF-50S
Structure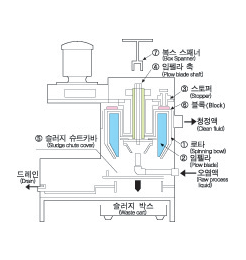 These are designes with plow blade(②) is installed inside the bowl(①), and has dualshafts ① and ② are rotated at once during common operation.
If hte sludge were accumulated too much on the wall, the plow blade can be used to scrap the sludge that will be collected by a waste cart at the bottom.
Specifications
Model\Spec.
Process
capacity
(ℓ/min)
Sludge
volumn
(ℓ)
RPM
of bowl(rpm)
Motor
(Kw)
Required
space
(mm)
Inlet
height
(mm)
Outlet
height
(mm)
Weight
(Kgf)
Download
50Hz
60Hz
SF-50S
50
7
1900
2300
1.5
1020×570
906
1118
250
SF-100S
100
15
1800
2200
3.7
1100×660
985
1244
350
SF-200S
200
25
1860
2200
5.5
1250×770
1004
1324
550