Centrifugal Separator
Manual Models
Product features
Installation requires minimum space and is very easy.
To remove the Sludge , open the rotor and take out the rubber bucket.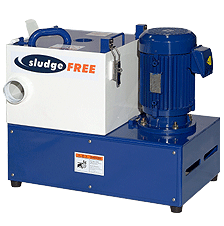 SF-50N
SF-100N
Structure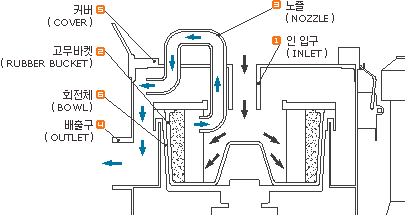 When the undiluted solution is injected into a hole ①, fine grains inside rotating rubber bucket ② get collected and the clean solution flows through the nozzle ③ and gets excreted through an outlet ④.
To remove the sludge, open the cover ⑤, and take out the rubber bucket in the rotator. Remove the sludge and insert the rubber bucket to its original position to operate.
Specifications
Model\Spec.
Process
capacity
(ℓ/min)
Sludge
volumn
(ℓ)
RPM
of bowl(rpm)
Motor
(Kw)
Required
space
(mm)
Inlet
height
(mm)
Outlet
height
(mm)
Weight
(Kgf)
Download
50Hz
60Hz
SF-50N
50
7
2000
2400
1.5
380×650
519
364
80
SF-100N
100
15
2000
2400
2.2
500×800
504
329
160